ThevoActiv - Pressure Ulcer Active Mattress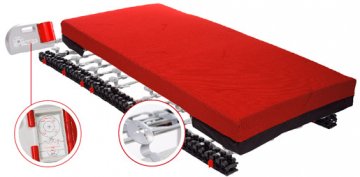 "Pressure sores can be avoided!"
Once a pressure ulcer is present, pain management becomes a priority due to the degrees of pain a patient then experiences. People needing a high degree of care often have great pain caused by the pressure of their movement limitations. These individuals need additional movement impulses.
How does this "active decubitus mattress" work?
Active movements
a simple menu selection offers a variety of movement programs. This provides
stimulation individually adapted to the patient, without disturbing noises!
Professional care with the Pressure Ulcer Active Mattress
MiS Micro-Stimulation® supports mobility
Suitable for patients at high risk and coma patients
Reduces spasticity and contractures
ThevoActiv has been successfully used in the medical field to prevent and treat pressure ulcers up to and including stage IV ulcers.
The mattress presents no deflation risk as the active movements are produced by pneumatic valves (16 or 24 valves) located on the lateral suspensions.
Download
Back