ThevoSleepingStar A – for sensory Input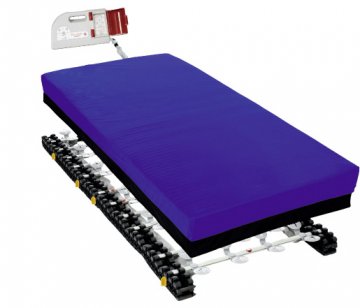 Components

Active movements

a simple selection offers a variety of quiet movement programs to individually adapt the stimulation to each patient.

Wing suspensions

take in micro motions and return them to the child
Children with severe motor limitations need additional movement impulses
Severely immobile children or children in coma vigil need additional movement impulses. A balanced ratio between relaxation and movement provides restorative sleep. In addition, risk of pressure ulcers is minimized.
How does this active sensory support mattress work?
A simple menu selection offers a variety of movement programs. This provides stimulation individually adapted to the patient, without disturbing noises!
Improved sleep with the Sensory Support Active Mattress
Reduces pressure
Reduces pain and spasms
Provides extra movement impulses
Improves quality of sleep
Features
The mattress presents no deflation risk as the active movements are produced by small pneumatic valves located on the lateral suspensions (12 or 16 valves depending on the dimensions).
Back