ThevoSleepingStar – for sensory support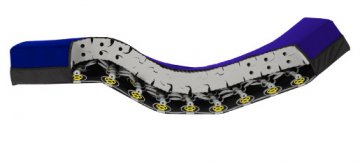 Components

Mattress

firm density foam provides a secure feeling when lying

Cover

removable and easy to clean for optimal hygiene

Positioning suspension

soft sensation of lying - extended sleep phases is optimally tailored to the sleep and lying requirements of children with special needs

Active movements

a simple selection offers a variety of quiet movement programs to individually adapt the stimulation to each patient.
Bed time - often a nightmare
Many children with special needs have sleep disorders or disturbances, affecting parents and other family members. These disorders include; issues with falling asleep and staying asleep, restlessness during sleep, as well as disorientation upon awakening. Sleep disorders affect a child's natural growth and development.
Improved sleep with the Sensory Support Mattress
MiS Micro-Stimulation® supports mobility
Improves body perception
Reduces spasms and pain
Calms the child for restorative sleep
Download
Back